Once I saw the rendering of this modern space, I knew I could help them match the rendering to real interior images.
The open floor plan of the living room and dining area with a small separation of a wet bar to the kitchen in the back. Also, you can't ignore the stunning views of this place.
The Process:
We always start a project by reviewing our client's needs and project details, planning the time for the shoot, and the schedule.
Prior to starting capturing the space, we always scout the space with the client to plan our schedule and visual list.
These two images took us about two hours to photograph, The interior design photographer's job is not just to create a beautiful image it's to explain his/her client's scope of work from vision to execution.
We focused on the modern design, the gold elements with this unique coffee table in combination with the strong pink carpet that is popping into your eyes.
In the first image, we took the overall approach to showcase the main space and hint at other spaces in the apartment.
The second
The image was aiming to show a more intimate view of the living room space with a focus on the custom furniture, unique coffee table, and craftsmanship of the cabinets.
The goal of the two photos is first to show the living room, dining area, bar, and hint to the kitchen and view.
On the second, we want to showcase the living room area but also the panoramic view and show the hallway to the other rooms.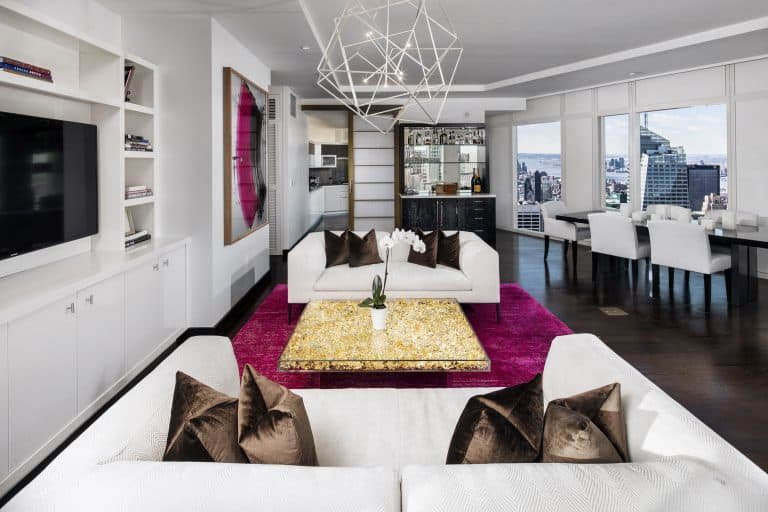 Post Production:
After every successful photoshoot, we go to our production studio for post-production and editing.
For the commercial-level visuals, typically the ratio is 1:1 for architectural photography and post-production.
This means forever one photography day we need about another day of work in post-production.
This allows us to craft, clean and tune the image, balance the colors, and export it for different media.
Although we showcased two images, we photographed the whole day to capture another 4 images of the master bedroom and bathroom, and guest rooms as well, but due to the privacy of our clients you can only imagine how stunning they are.