If you are an Architectural Photographer or looking to get into the business, the lens is the butter on the camera bread.
In this article, I am going to review the top 10 lenses for architectural photography it's important to know that you can shoot architecture with almost every lens, but the most important thing is the focal length and lens distortion.
In my mind, an amazing image is done by a creative person and the right lighting, camera, lens, and accessories just make our life easier.
Today when technology is already mature in the digital camera world, most of the leading companies have similar quality in the different price ranges.
Last note, a good lens will make your picture even better, but you need to have a good photo, to begin with, and that upon you as a photographer.
What is the Best Lens for Architecture Photography?
There is no such thing as the "best lens" this depends on your use and style, we first need to understand what we are looking for and what the market has to offer.
So first, what is important for us is to void optical distortions, this can be solved in two methods.
First is using the TS lens (tilt-shift lens) which allows us to move the elements of the lens right, left, up, and down without moving the camera angle.
Think about it like this, if you look at a building you need to look up, but then your perspective shifts and you will see the building going and getting narrow when looking up, the TS lens just uses a mirror to look up and keep the perspective straight.
Your second option is using any lens that is above 24mm which will minimize the lens distortion (round corners like an egg or when you look on the viewfinder at your home door).
After we understood what we are looking for, it was all about you, your needs, and your budget.
Wide-Angle lenses
As mentioned before, unless you use a TS lens the widest it's recommended to go with is 24mm on the full sensor and 17mm cropped sensor (1.4/1.5/1.6).
When you use a 17mm full-frame full-frame you will find yourself getting the corners distorted, so even if you do have a wide lens you can zoom in until 24mm to get a more natural perspective.
Zoom Lenses
A great zoom lens is always in an architecture photographer's bag, typically a lens like the 24-70mm, and the reason is backup and dual usual-use.
We always must have a second lens and TS lenses are pretty expensive and typically manual, so a zoom lens can help you with backup for the 24mm range, and also when you need to take some details to shoot or need the extra zoom when photographing from further away.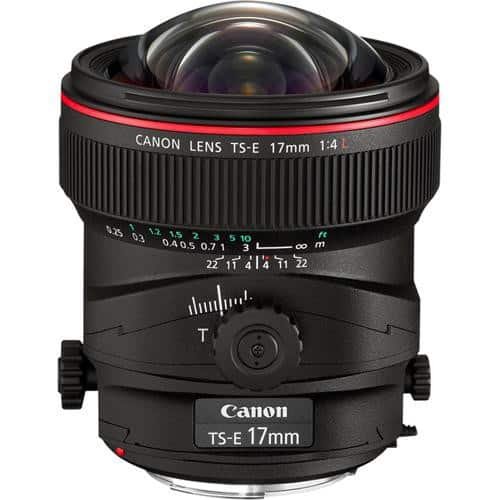 Best Tilt-Shift Lens
Canon 17 TSE
Is by far my favorite lens, this is a great build with manual autofocus like all of the TS lenses out there.
It has one disadvantage and it's the oval lens element in the front meaning you can't put a polarizer filter to avoid reflections and it'sits element is also more likely to get damaged as you can't put a protective filter on the front element due to its shape.
It's nominal, great build, great quality and it's my to-go lens.
Canon 24TSE
Same like the 17TS it's fantastic, manual, but has a more standard focal length of 24mm.
Its element is stright so with ease you can put filters both polarizer and protective without any problem. This is also my second lens which I use daily.
Nikon Nikkor PC 19mm
The most expensive in the bunch, fantastic lens quality, built and optical, with 19mm which is the best of both worlds between the Canon 17mm and the 24mm versions.
Rokinon 24mm f/3.5 Tilt-Shift
In the last year, Rokinon joined the game with the first option for TS lens by 3rd party manufacture, with a much more affordable price, and great quality from what I heard.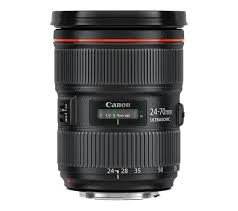 Best Lenses for Full-Frame Cameras
Canon EF 16-35mm f/2.8L III USM Lens
If you are a Canon photographer and don't use the TS collection, your best bet is the 16-35.
While we recommend capturing photos in the 24mm range (17mm on crop) you get the best quality of lens and autofocus out there.
This is the third version for one of the most famous lenses out there, with an aperture of 2.8, this will allow you to get more light in cases that you shoot at night without much lighting.
Canon EF 17-40mm f/4.0 L USM
This is the more affordable version, as it's an f4 lens this is the little brother of the 16-35 f2.8 and is priced accordingly.
While we do not shoot in those open apertures under f6 typically the wider aperture can be useful but rarely used, so it's more a preference of a budget vs apature need.
Nikon Nikkor 16-35 f/4
This is the "uncle" of the Canon 17-40 f/4 of canon, this is a superior lens by Nikon and the same rules apply here when it comes to focal length and avoiding lens distortion.
The Nikon however has a Nano Crystal Coating that helps to reduce ghosting and flare (light rainbows and spots) in different lighting conditions.
Sigma 12-24mm f/4 Art DG HSM
This is a great quality and price alternative to the Canon and Nikon version for your camera.
While this will not end up in my bag as the first or the second lens, this might be a good option when it comes to budget, same rule applies we don't deliver a 12mm ultra-wide images to our clients, in case we do need to get a winder look we can stitch a two-image panorama with TS lens for the same effect.
Sony 12-24mm f/4
Like Canon and Nikon, Sony has its lines, and this one is similar to Sigma 12-24.
This can be a great option for real estate video on a crop sensor getting you to a 16mm-32mm but for architecture and design, we prefer to stay above the 24mm on any given day.
Tokina 17-35mm f/4 Pro FX
Tokina does a great job for budget lenses and this is no different, this is their version of the Canon and Nikon 16-35 and 17-40 lenses.
It has some great glass and a beautiful mechanism, it works great, but it's the more budget-friendly version when you compare it to the offering from other brands.
Best Lenses for Crop Sensor Cameras
If you do not work with Full-Frame or Mirrorless yet, you. Might need some options that fit your sensor size.
Most of the professional lenses fit both full-frame and crop cameras, however, some models do not fit the full-frame like the Canon EF series.
Canon EF 10-18 f4-5.6 IS
This is a great budget-friendly lens due to the fact it does not have a constant constant aperture like the canon f/4 or f/2.8
It does have an IS (image stabilization) however on a crop camera this can be around 16mm-24mm equivalent.
Nothing to add here, it's a good lens, at a good price for beginners.
Tamron 10-24 f/3.5-4.5
Great lens, sharp and does the job at an affordable pricing price compare to the Canon and Nikon Version.
Tokina 12-28 f/4 ProXD
The same as the Tamron, it's a great alternative and image quality that Tokina is known for, with better price affordability.
Summery
For the long term, I recommend investing once in a good lens rather than buying and selling your lens every year. 
As a Canon shooter, I use the same lenses for about 8 years so if you take care of "them" they will take care of you.
Second, make sure if you don't buy a native (canon lens for canon camera) that the lens mount is compatible with your camera sensor and mount. 
Many stores will offer you to check their in-store so I would recommend you do this before you commit and buy one.
Lastly, we captured high-end work with a low-end lens, don't go crazy your creativity is what counts. 
If you want to see what architectural camera and lens we use, or what type of accessories and gear we work with make sure you read our blog.