If you are an Architecture Photographer I am sure you are excited to learn new tips and techniques to improve your work.
Learning is a marathon and not a sprint, meaning we always look to evolve and learn new methods for creating amazing images.
Let's talk about a few points that will help you improve your overall imagery.
The right time for Architecture Pictures
There is no such thing as the right time, but there are several times of the day that can help you create even better photos.
Before Noon – you can get an angle directional light from the sun to create powerful daytime photos, make sure the sun is behind or to the side of you to get even better bluer Skys.
Afternoon Golden Hour – is mainly the time that the sun is more warm and golden, this brings you a more warm look that creates the illusion of warmth.
Dusk / Sunset – Allow you to create the Hero image of the day, exactly when the exterior and interior lights are balanced allowing you to have an amazing sunset while the interior lights show the inside. You can read more about twilight architecture photos here.
What Equipment Do you Need?
One of the biggest misconceptions is that great gear creates great photography, it's important to understand that our equipment is here to make our lives easier and to be able to create better images.
One of the things you need to consider is HDR (high dynamic range) which can give you a wider range of tonality, shadows, and highlights.
The second thing is the remote control like CamRanger that will allow you to create more complex and creative shots and bring value to your clients.
The additional benefit of the remote control will allow you to work with a Smartphone or an iPad this will let you see more clearly the details and ultimately create better shots, while you can also set up a "producer monitor" for your clients to feel more involved and they can direct you what else need to be done in the frame resulting in better visuals.
If you want to learn more about the cameras and lenses we use or our equipment and gear make sure you read the photographer blog section.
Finding the right Angle
Like we always say there's no such thing as the right angle, but some angles work better to create an amazing image.
Try to stop, think and breathe, don't work like a machine, observe and ask yourself if this angle showcases the best of each element?
What I mean by that, is that we should ask ourselves does the angle reflect how unique, expensive, modern or traditional? Can you see the views that make this property stand out? Can you see where it's located and what makes this place the client's next place?
We don't need to show everything as opposed to real estate in one frame end to end, but we do need to include a hint to many things that create an amazing visual.
Sometimes this can be a peak of the view, maybe the pool and spa or maybe how secluded or how it's located right by the train station or historical district.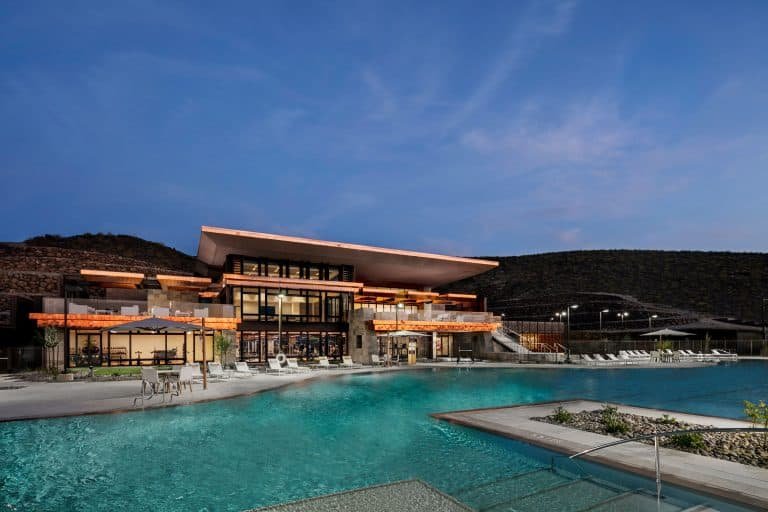 The Power Image
I believe that the most powerful images are straightforward most of the time, and go a little bit lower than the eye level to create an even stronger visual.
Try including the strength of the structure by showing how it compares to the others, if it's less significant than the other structures around that you may want to choose to exclude those and focus on the building itself.
Wait for the sunlight to hit the building, and try to find an elevated space to showcase how it is separate from the other buildings.
Get some sun bursting in the huge windows if you have some to show the in and out feel.
Don't forget the mid-day sun, golden hour, and twilight to create even more powerful shots.
Post Processing / Editing
We can do almost anything to an image in Photoshop, or other post-production software. 
Adding some contrast, moving the black point, adding some sharpening, and reducing or adding some colors to get even better visuals.
Remove obstacles that distracting without changing the charter of the visual, maybe change the temperature of the image to make it bluer and more monochromatic or make it warm with the impact of the sun.
Don't forget we are trying to create an emotion, and feeling not just showcasing the structure by itself.
Scouting
The best way to get better images is to be prepared, it's very hard to get creative in seconds moving from one shoo to the other.
By scouting, you have more time to experience the project, walk around it, understand what makes it special and get to know the surrounding. 
It will also help you better plan the shoot as you are aware of limitations and sun duration and you don't need to compromise on that image just because you didn't know this is lunchtime and there's a food truck stuck at the entrance of the project.
Get Creative
When you plan (scouting) and you provide for your client the image they need, just before you finish the day with the twilight shoot, you usually end up with about 1-2 hours.
This is the time to get creative with different lenses, and angles, play with shadows and highlights, and takes some details to shoot.
Once you know that you "delivered" everything the client asks for, now you are mantality more free to go wild and create more creative shoots and experiments.
Did you try to photograph from above towards down? How about from down looking up? Maybe you can find a great angle across the street and even sometimes a few streets down the road?
Once I had 2 hours and I decided to walk around the block, finding a 4 level public garage, I had to climb the stairs the entire 4 levels, but when I got to the top I found a very strong visual that you can't get from anywhere else.
People love photographers, once I even went to a private apartment a few blocks away for some nice couple that allowed me to capture a photo from their window, it was an amazing extra shoot both for me and the client.
Include the Environment
Location, Location, Location is the number one slogan for real estate and it works for us also.
One of the things that can make a structure special is the environment, maybe it's the views, the landscape, the city, mountain, forest, or urban surrounding this, and make this place in context when you incorporate it into the images.
Go backward, try to explain to people with visuals how you get there, or why you can't get there (privacy), does the surrounding have mature trees? Maybe a lake or a river? Maybe it's the beach just walking distance away.
Environment plays a key part in any stunning imagery it is what separates just another great building from how amazing it is within the locations it's situated.