So you want to get into the architecture photography world, both if you are a beginner or shifting from real estate photography we will try to give you some general information on how to get started.
What is Architectural Photography
Architectural Photographer is a technical yet creative individual, that focus on capturing structures and space for any purpose. 
This can be for real estate, hospitality, sale, vacation, residential, commercial, private and public, or manufacturing.
I will not go into too much detail we have some great blog posts about the industry, history, gear, and equipment so make sure you check them out.
Learning Architecture Photography
Mastering this niche includes two elements one is creativity and the second is technical.
You can read more about learning architecture photography in more detail, but you can learn this by yourself with hard work and effort.
You first need to master the basics of photography, shutter, ISO, aperture, multiple exposures, and other techniques to create simple to complex images.
You also need to have more than the basic knowledge in post-production to be able to embellish your visuals.
And lastly, you need a passion for architecture and design and of course photography.
Gear and Equipment
The gear does not make the photographer, it's what the photographer can make with its gear.
Amazing photography is done by creativity and light, and all the rest are tools to make our lives easier and our images better. 
You do need however to own a professional level of camera, this can be DSLR or mirrorless (no one cares) what is important is that you will have a good dynamic range, dual cards for the back, and enough resolution to provide a high level of details and that's it.
While you can shoot with any lens there it's recommended that you will invest in Tilt-Shift Lens. If you will be doing this for the long run, investing once in professional and good equipment will sever you about 5-10 years and it's better than buying and selling your gear every year.
The journey is not ending there, you will need many other accessories, like a remote control. Studio lighting, reflectors, secondary body and lens, backup batteries, and chargers, yes you don't have to run and buy all of them now, but you do need them if you are planning to act like a real business.
You can learn more about the architecture photography camera and lens, and the other gear and accessories we use in our other blog posts.
How to build your portfolio
Every photographer asks themselves how to build their portfolio when they are starting. 
It's important to know that the journey toward the perfect portfolio never ends, you will always update and upgrade it as you evolve and the trends change.
Your portfolio should represent 3-to 5 projects least and show a variety of styles and magnitude. This can be modern vs traditional, small vs large projects, luxury vs cost-efficient. 
Your portfolio should show capabilities, if you only showcase high-end luxury modern homes you might be turning off some very good clients, the same if you show only residential work and do not include some commercial work as well.
Start by capturing public projects, while you might still need some property release for them, it's the best option out there to get the experience you need and build your portfolio.
Ask a friend to photograph their home, office, or building or offer real estate agents several free sessions which will include 3 hours of work, you will invest the first hour to capture what the real estate agent need and then take the extra two hours to capture the photos you need for your portfolio.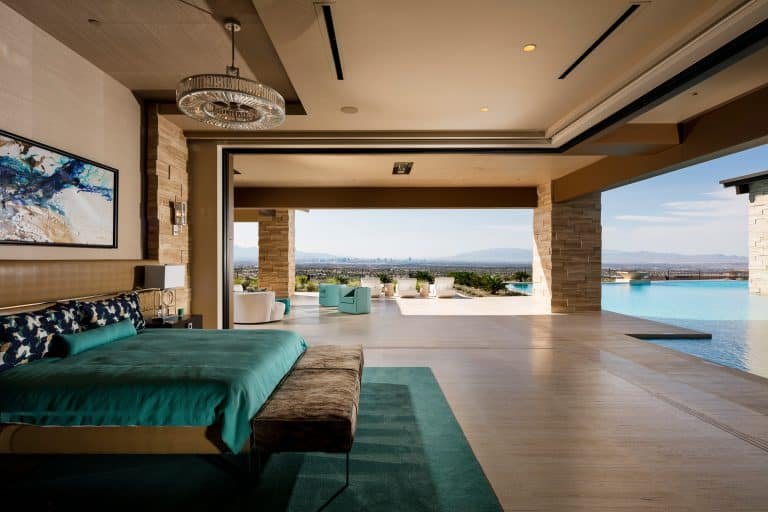 How to Showcase Photography Portfolio
You don't need to show 30 pictures from each project, you have two options for how to showcase your portfolio.
The gallery is one of the best options when you have too many or too few images in your portfolio this is my favorite way to feature our work to showcase the best of our work combining modern and traditional, luxury and cost-efficient, and residential and commercial in one gallery.
This will be helpful when you start as 8-10 images will already show your ability and style.
Projects are another great way to share your work, this can be done based on projects you documented from start to finish and it's also a great way to show how you handle start to end and large-scale projects.
This can be for example a residential home that will include 8-10 images starting from the daytime exterior, entrance, living room, kitchen, dining, master bed, master bath, entertainment space, backyard, twilight shoot, and details.
It's up to you and your style, I think both are great and you can check them as you go.
How to get your first client
Well, great bud, how should I build a portfolio without making my first shoot? And how do I get my first client?
Great question, everyone needs to start somewhere, and the best way (yes it's proven) is to shoot for free. For free? Yes.
First, you don't have yet experience or you haven't proven to the "world" you can nail the basics, you can't expect people to take risks with you like you won't pay a company to do the first job for you either.
Now, this is value vs time, and I believe that this is the best way to showcase your capabilities and refine your techniques. 
Start by reaching out to friends, family, and colleagues and shoot their home and or office.
Then reach out to several real estate agents that might want to re-shoot existing projects and/or haven't shot anything yet.
Don't negotiate too much, this should be a very simple win-win situation. You photograph 10-20 images in an hour for them including basic editing and take another 2 hours to capture what you need for your architecture portfolio.
Time is money so offer them the basics and the extra images as added value, remember they are doing you the favor, not the other way around.
After 4-5 shoots (2-3 working days) you will end up with several projects for your website and then leverage them to acquire new clients.
Be creative with ambient and studio lighting
While natural is great, it works for very few projects and magazines style.
As opposed to real estate architecture should be much more refined, and upscale. 
Explore multiple exposures, using strobe and flash lighting and advanced editing techniques.
Make sure you get the details, the layout, finishes, material, and color in a proper way.
The game is now beautiful images, it's the right type of images that sells so have this in mind because this is commercial photography no less.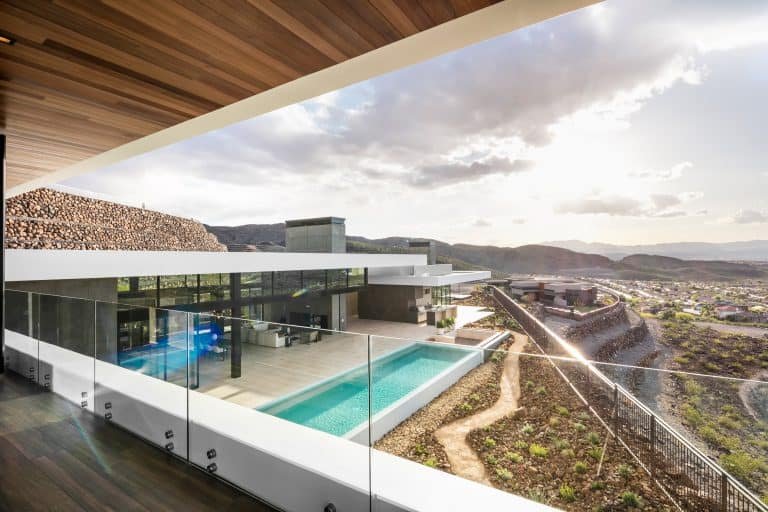 Capture the Basic then get Creative
Like we said starting you need to understand that you will need to run a business, not just an artist-free sole. 
This means getting your client what they need to market their business and not just get a few likes on social media. 
Make sure you nail all the basic shots and what the client requested or need.
After doing so it's time to explore what makes you different than all the other thousands of photographers out there and be creative.
Try to find your niche and style, and try new techniques and methods.